Kyllä, tänään puhun Sword Art Onlinesta. (tai SAO:sta näin kansankielellä.) ja olin tosi kekseliäs otsikon kanssa… Sain idean katsoa tämän animen, koska näin, että Anime-lehden numerossa 1/2013 oli suuri juttu siitä ja se oli muutenkin yksi isoimmista keskustelunherättäjistä viime vuonna. Minä olen nyt vähän myöhässä tätä katsoessani, mutta halusin näin suhteellisen uuden harrastajan näkökulmasta katsoa mistä oikein puhuttiin.
En siis spoilannut itseäni lukemalla anime -lehden artikkelia, joten tiesin vain, että kyse on animesta, jossa ihmiset joutuvat jumiin pelin sisään ja kuolevat oikeasti, jos kuolevat pelissä. Konsepti kuulosti mielenkiintoiselta, mutta enemmän minua kiinnosti miksi siitä puhuttiin niin paljon? Ja (ehkä turhana) varoituksena: tästä eteenpäin teksti spoilaa!
Jo alusta asti SAO on erittäin koukuttava juuri lähtöasetelman kuolemaulottuvuuden takia. Myös päähenkilö Kiriton asema pelin betatestaajana säästää katsojan liialta alkusäätämiseltä ja antaa enemmän aikaa draamalle, sekä SAO:n maailman ihastelemiselle.
SAO:n maailma on todella kaunis ja animea katsellessa huokailin välillä sitä, kuinka mielenkiintoista olisikaan upota vain johonkin eri maailmaan kaikkien aistien kanssa. Fantasiateemainen MMO –peli tuntuisi siltä kuin saisi kaikenlaiset unelmat kirjojen ja elokuvien maailmaan uppoamisesta toteutetuksi. Animen laatu taiteellisesti on siis mahtava niin taustojen kuin taistelujenkin kannalta katsottuna. Myös animen toisen juonikaaren peli AlfHeim Online antaa fantasia- ja scifihörhöille lisää haaveiltavaa: Siinä lentäminen on mahdollista. Myös sarjan musiikki niin soundtrackien kuin openingien ja endingien osalta oli oma mahtava lisänsä ja auttoi uppoutumaan sarjan maailmaan.
Eikö olekin kaunis?
Suurin yllätys minulle SAO:a katsoessa oli juuri se, ettei sitä pelattukaan loppuun asti vaan mukaan otettiin myös toinen peli. Välillä tuntui siltä kuin kaksi eri animea, jotka kertovat samoista hahmoista oli survottu yhden nimen alle. Myös sen takia sarjan alku tuntui menevän supernopeasti eteenpäin. Yhtäkkiä siinä oli kulunut 2 vuotta. Siinä vaiheessa minua alkoi kiinnostaa mitä tapahtuu, kun he lopulta heräävät? Olisivatko kehot siirretty sairaalahoitoon vai olivatko kaikkien pelaajien kehot riutuneet kuoleman partaalle? Miten kävisi sellaisille, jotka elävät yksin, eikä heillä ole läheisiä toimittamassa heitä sairaalaan?



Mielenkiintoisin juonenkäänne oli sijoittaa sarjan huippukohta, eli SAO:n voitto keskelle animea. Luulin melkein tosissani, että anime oikeasti loppui Kiriton heräämisen jälkeen 14. jaksossa, koska en keksinyt miten se voisi siitä enää jatkua järkevästi.
Eikä se järkevästi jatkunutkaan. Viimeinen puolikas sarjasta oli minusta paljon huonompi ja olisin jopa mieluummin ottanut lyhyemmän animen, joka loppuu Kiriton heräämisen ja Asunan kanssa yhteen päätymiseen, kuin katsonut puolet sarjasta kuinka Asunan hahmon rooli muuttui taistelijasta pelastettavaksi. Asuna oli hurjan paljon mielenkiintoisempi hahmo, kun häntä ei ollut teljetty häkkiin. Plussaa täytyy kuitenkin antaa siitä, etten arvannut viimeisen vastustajan SAO:ssa olevan Heathcliff/Kayaba Akihiko. Se oli oikeasti toimiva juonenkäänne. Muutenkin sarjan pahikset oli hyvin toteutettu.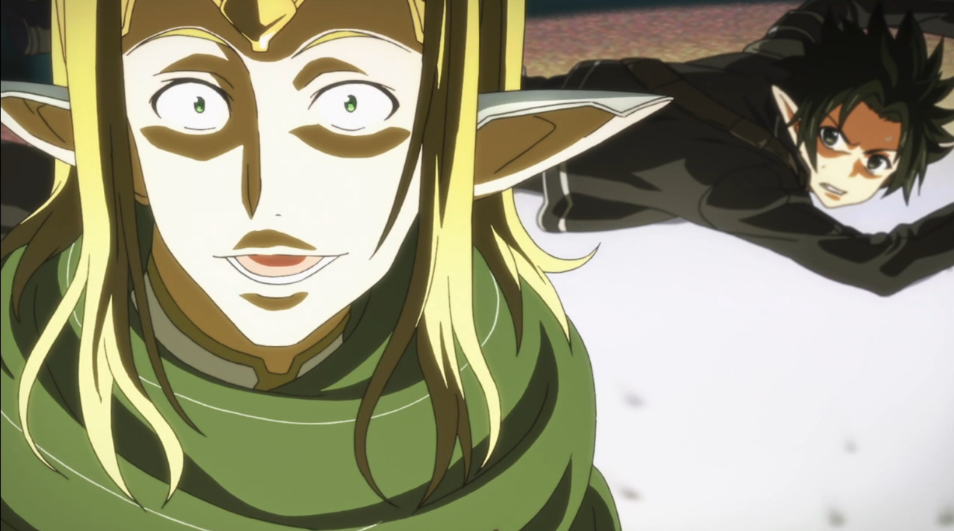 Limainen pahis on Limainen.
Muut sarjan sivuhahmot olivatkin sitten aika turhia. Alkujaksojen tytöt tuntuivat siltä, kuin heitä olisi yritetty koko ajan parittaa Kiritolle. Myös Kiriton satunnaiset pelikaverit (siis kaikki, jotka eivät kuolleet) tuntuivat osittain turhilta, kun Kiriton ja Asunan suhde vei suurimman osan huomiosta. Myös heidän virtuaalilapsensa Yui oli ärsyttävä, koska pystyi siirtymään pelimaailmasta toiseen. Vaikka toihan hän mukavan lisän draamapuolelle.
Virtuaalilapsi Yui
Pakko mainita vielä, että ryhtyessäni katsomaan SAO:a, huomasin siinä käytettävän sellaista pelisanastoa, etten olisi ymmärtänyt sitä, jos en olisi aiemmin pelannut WoW:ia. Toisaalta tällaiset pienet asiat eivät ehkä juonen kannalta ole niin merkityksellisiä, mutta katselumukavuuden kannalta jargonia olisi saanut olla vähemmän. Ihan siltäkin varalta, että kaikki jotka katsovat SAO:a, eivät välttämättä ole pelanneet mitään roolipelejä, jolloin kaikki "partyt", "raidit" ja "avatarit" eivät aukea.
Vaikka pelijargon saattaa tuntua vaikeasti ymmärrettävältä, on muu osa animesta kuitenkin niin söpöä ja mukaansatempaavaa, että tätä draamalla ja actionilla varustettua höttöä voisi katsoa maailman ääriin asti. Loppuarvosanaksi annoin 8/10, mutta ehdottomasti olisin antanut enemmän, jos sarjassa ei olisi ollut loppupuoliskoa.
Translation: Sword art on/offline
Yes, today I'm gonna talk about Sword Art Online (or more commonly known as SAO). And I was really creative with the heading… I got the idea to watch this anime, because I saw an article about it in
Finland
's anime magazine. (1/2013). There was a big article about it and it was one of the biggest talk about animes last year. I am a little bit late watching this now, but I wanted to see what everybody talked about from my relatively amateur point-of-view.

I didn't spoil my self, so I didn't read the article in anime magazine. So only thing I knew about it was that it's about a game that people are stuck in and if they die in there, they die in real world also. The concept sounded interesting, but I was more interested why people talked about it so much? And (maybe in vain) from this point on the text is gonna spoil!

From the very beginning SAO was really addictive, because of the death aspect. Also the fact that Kirito was a beta tester of the game saves the viewer from extra time to get to know the game and gives more time to the drama and also to admire the beautiful world of SAO.
SAO's world is really beautiful and while watching the anime I sometimes sighed about the fact that it would be just so cool to jump into a different world with all your senses. Fantasy themed MMO-game would feel like getting all your dreams of sinking into books and movies worlds true. The anime's quality in art was awesome both background and action scenes point-of-view. Also the animes second game AlfHeim Online gives even more dreams to fantasy and scifi nerds: There people are able to fly. Also the music of the series was amazing. The opening and endings and also the soundtracks made it more possible to sink into the anime's world.
The biggest surprise for me while watching SAO was that it wasn't played to the end but there's was another game also. From time to time it felt like two different animes with the same people were mashed together under one name. Also because of that the Beginning of the series felt like it went on too fast. Suddenly two whole years had passed by. During that point started thinking what happens when they wake up? Would the bodies have been moved to hospitals or would all the bodies of gamers have starved to almost death? What would happen to the people who live alone and they don't have family who would move them to hospital?
The most interesting plot twist was to put the series
high point
, in other words beating SAO in the middle of the anime. I almost believed that the anime ended when Kirito woke up in the 14th episode, because I couldn't figure out how it would continue rationally after that.
And it didn't continue rationally. The last half of the series was worst in my opinion and I would have taken a shorter anime which ends to Kirito's wake up and Asuna and him ending up together rather than watching half the series how Asuna's role turned from fighter to damsel in distress. Asuna was more interesting character when she was not locked up in a cage. Though I have to give a plus, that I didn't guess the last boss in SAO to be Heathcliff/Kayaba Akihiko. It really was a functional plot twist. As it is the other bad guys in the anime were also well written.
The other side characters were a little useless. The girls in some of the episodes in begin felt like they were tried to be paired with Kirito. Also Kirito's random player buddies (I mean, the ones who didn't die) felt partly unnecessary, when the relationship of Kirito and Asuna rook the whole attention. Also their virtual child Yui was annoying, because she could move from game world to another. Although she gave a nice spin to the drama side.
I have to say that when I started watching SAO, I noticed that they used a lot of game vocabulary, that I would have not understood if I haven't played WoW. On the other hand these little things are not so necessary from the plots pint-of-view, but I would have enjoyed it more without the game jargon. And I also thought that some people who watch SAO, might have not played any role play games before, so all the "parties", "raids" and "avatars" don't mean anything to them.
Game jargon might feel like it's hard to understand but the other parts of the anime is so cute and gripping that you could watch this fluff with drama and action to the end of the world. I gave this 8/10, but definitively I would have given more if the series ended after the first half. (sorry about all the pictures being in the Finnish part :D)


Sata kirjaa vuonna 2013
Aloitin tämän haasteen jo vuoden alusta, mutta en silloin saanut päähäni laittaa sitä tänne. Nyt se
kuitenkin löytyy tuolta sivupalkista oikealta. Tällä hetkellä olen hiukan (*köhpaljonköh*) myöhässä siitä mitä minun olisi jo pitänyt lukea, jos yrittäisin lukea tasaisesti. Olen valinnut turhan paksuja kirjoja luettavaksi XD.
Hundred books in year 2013
I started this challenge at the beginning of this year, but I didn't realize I could put it in here also. Now you can see it from the side bar on the right. At the moment I am a little (*krhmlotkrhm*) late from the amount I should have read up this point, if I try to read it somewhat evenly. I've been choosing too thick books to read XD.